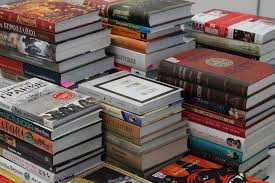 Greetings!
Our Spring Book Sale is just around the corner. The dates are April 9-13. If you are spring cleaning and have gently read books, please consider donating them to the sale. We will take donations until April 6th.
As always Monday April 9th is the Friends Only reception/Sale  from 6-8 pm. If you are able to help out with the sale one evening, please contact me.
Just a reminder, we now accept payments for memberships online through Paypal. We can also accept book sale funds this way.
We will be giving away a Kindle Fire HD8 on May 1st. Anyone who becomes a member or renews their membership during the month of April will be entered to win. You must sign up/renew at the front desk.
If you haven't "liked" us on Facebook yet, I would encourage you to do so.  It is a great way to stay informed.  We are also on Instagram (friendsoflmlibrary).
I look forward to seeing you at the reception and sale.
Sheila Wells